TS 10th Class Marks Memos 2020: Telangana State Government has recently declared that class 10th examinations will be cancelled due to COVID Emergency. In view of Corona Pandemic increasing day by day Telangana state government has cancelled the class 10th examinations this year. Students will be allotted grades as per their internal marks. And this year there will be no advance supplementary for class 10th students in Telangana as all the students got passed in class 10th examinations.
TS 10th Class Marks Memos 2020 Will Be Issued Directly to Students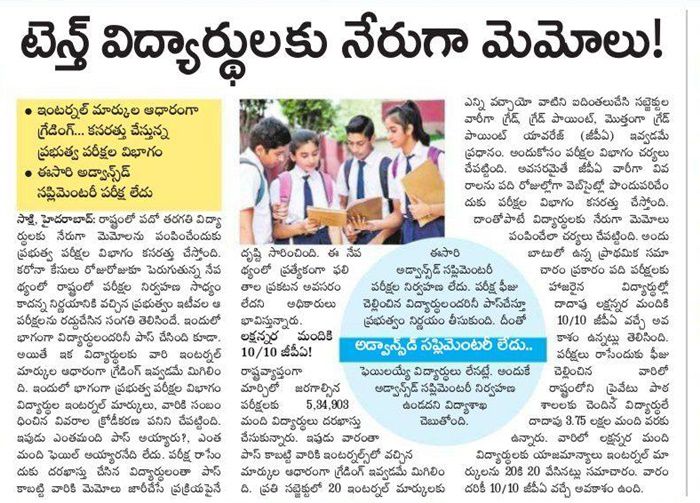 The TS Board of Secondary Education is presently exercising on allotting grades to SSC students. To allot grades to students, the TSBSE has started collecting the internal marks of students and other concerned details. So, this year all the students who have applied for the exams will be considered as qualified in the board exams. As there is no pass/fail process, the TS Government is getting ready to issues the marks memos for class 10th students. As the board is directly allotting grades to students and making everyone pass in the exams there is no necessity of declaration of results specifically. Students will be issued direct marks memos based on their previous internal examinations.
Also Check: TS 10th Class Results 2020 Name Wise
Telangana SSC Marks Memo 2020 Download
This year 5,34,908 students have applied for class 10th/SSC examinations in Telangana. The BSETS board has scheduled the class 10th examinations in March month. While, the examinations got cancelled due to lockdown announced by the central government. As this year all the applied students will be declared as 'pass', the board is now working on allotting grades to the students.
To allot the grades to students, the board is going to consider the score obtained by the students for 20 marks in internal papers. The score obtained by the students will be made 5 times to calculate for 100 marks in each subject. Based of the marks, students will be issued Grade, Grade Point Average (GPA). Soon after completing the GPA calculating process, the board is planning to keep the results on website within 10 days.
10/10 GPA for 1.5 Lakh Students:
As per the available statistics from sources, this year 1.5 lakh students might score 10/10 GPA in class 10th in Telangana. As per the statistics, the students who paid the SSC examination fee are most part from the private schools. Approximately 3.75 lakh students from various private schools have applied for class 10th examinations this year. In 3.75 lakh students 1.5 lakh students got scored 20/20 in their internal examinations. As per this, these students will get 10/10 GPA in Class 10th.
TS SSC Exams: No Advance Supplementary This Year
As each and every student who has applied for Class 10th exams this year is said to be passed in the examination, there will not be any supplementary examination this year. Students will be directly allotted Grades and Grade Points as per their internal marks and directly they will be issued the Marks Memos. Soon, the Board will announce the Grades and GPA of students on its website. Students can stay tuned to the BSE Telangana portal to check the TS Class 10th Result, GPA, Marks, and Topper's List.