TS CPGET Counselling Dates 2020-2021, Certificate Verification, Web Option Entry: Osmania University is all set to conduct the counseling process for the Post Graduate Common Entrance Test (TS CPGET) qualified aspirants. Through this counseling process, candidates who got qualified in the TS CPGET 2020, will get admission into various Postgraduate Degree courses for the academic year 2020-2021. Recently, the university released a complete counseling schedule for various ranks and various courses. All the competitors appeared for the Telangana CPGET examination and eligible to get admission in various PG courses can go through the TS CPGET Counselling schedule, counseling process, and fee information from this article. After the counseling process has been done, the certificate verification process and seat allotment phase will take place. All the hopefuls who are waiting for TS CPGET Counselling, Document Verification, and seat allotment process can check the complete information from this article.
The qualified candidates of CPGET-2020 are hereby informed that the final phase of certificate verification, exercising of web options will commence from —. The online payment for fresh registrations will be open from — for those who did not registered earlier. All the candidates have to exercise their web options freshly for possible sliding and for new admissions. Further, the NIQ, CAP & PH admissions will be conduct on —. The detailed notification and related instructions along with subject wise schedules of certificate verification and manual counseling schedules are available in the websites: www.ouadmissions.com; www.osmania.ac.in or www.cv.ouadmissions.com
TS CPGET 1st Counselling Dates 2020-21, Certificate Verification, Web Option Entry @ tscpget.com
The candidates of CPGET–2020 who have not attended in first or second phase certificate verification shall get their certificates verified from any of the decentralized verification centers. The candidates who did not pay registration fee in first or second phase should pay the registration fee of Rs.200/- for OC/BC candidates and Rs.150/- for SC/ST/PH candidates has to be paid by candidate through online payment mode before proceeding to certificate verification, which is mandatory. Only those candidates who paid registration fee are allowed for certificate verification at various centres.
The Decentralised Certificate Verification will be done at the following University centres. Candidates can choose any of the following university centres for their certificate verification as per the below schedule.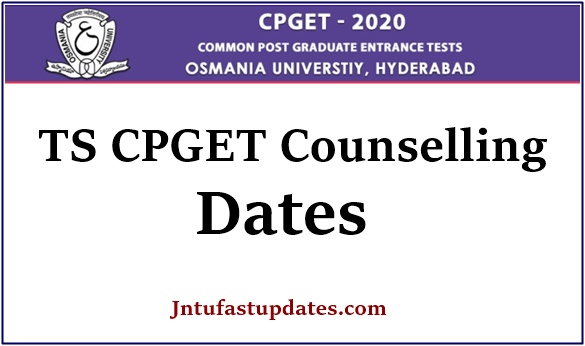 Certificate Verification Centres:
Directorate of Admissions, Osmania University, Hyderabad–500 007
Directorate of Admissions, Kakatiya University Campus, Vidyaranyapuri, Warangal-506 009
Telangana University Campus, Dichpally, Nizamabad–503 322
Mahatma Gandhi University Campus, Yellareddyguda, Nalgonda–508 254
Palamuru University Campus, Bandameedipally, Mahabubnagar–509 001
TS CPGET 1st Counselling schedule 2020 – Important Details
 

 

S No

 

 

Details

Dates
 

 

1

Registration Fee
 

 

—

 

 

2

Certificate Verification 
 

 

—-

3
Exercising of Web Options after Certificate Verification for all registered candidates
—
4
Editing for Web Options (if any)
—
5
NIQ, CAP & PH Quota manual counselling
—
Note:
1. Since it is final phase of certificate verification and web options, candidates are advised to be extremely careful in exercising the options. Those who have already taken admission must note that in case they give options and if they get the allotment, their previous admission will be automatically cancelled. In case they don't get any allotment, their previous admission will remain as it is.
2. The candidates who did not got their certificates verified in the first / second phase have to attend for certificate verification in any nearest verification centre.
3. After the certificate verification the candidate has to visit the website and register for web options, the OTP will be generated and will be sent to the candidates registered mobile number. All the messages / OTPS / allotment details etc., will be sent to the registered mobile number only, hence advised to keep the mobile with you till the end of admission
Fee payment for certificate verification
Schedule For First Phase Certificate Verification Notification – Not Yet Released : Available Shortly
Every year Osmania University is going to conduct the Common Post Graduate Entrance Tests (CPGET) for aspirants wishing to get admission in various Postgraduate Degree courses MA, M.Sc, M.Com, and other courses. Also, the qualified candidates can get admission into various P.G. Diploma courses and 5 years Integrated Programmes ( M.A., M.Sc., M.B.A) offered by Osmania, Telangana, Kakatiya, Mahatma Gandhi, Satavahana, Palamuru, and Jawaharlal Nehru Technological Universities for the Academic year 2020-21. To get the admission in PG Courses candidates must have to clear the CPGET with good merit. Students qualified in CPGET examination can get admission in the 7 major universities of Telangana in their preferred PG course. This year the Osmania University accepted applications from —. A large number of candidates have applied for the TS CPGET 2019 this year. TS CPGET examination conducted from 2nd december 2020 for various PG courses. OU recently declared TS CPGET result, rank for the competitors.
TS CPGET Certificate Verification 2020
The document verification will be conducted for the qualified aspirants. The counseling process will be starting on — for all ranks. The Document verification process is going to be done at the specified counseling centers during the scheduled dates. Candidates who have got qualified in the CPGET 2020 can check the clear information of TC CPGET counseling, web options, counseling centers, registration fee, and other details from here.
TS CPGET Counselling Fee
Aspirants qualified the CPGET examination and applying for DV round has to pay the specified counseling fee.
The registration fee of,
200/- for OC/BC candidates
150/- for SC/ST/PH
Candidates have to pay the application fee through online payment mode before proceeding to certificate verification, which is mandatory.
TS CPGET Counselling Process
Phase 1: Registration
Phase 2: Certificate Verification
Phase 3: Exercising Web Options
Phase 4: Seat Allotment
Step 1 – Registration for CPGET Counselling 2020
Initially, qualified candidates have to register with the TSCE Official portal to proceed with the counseling process. At the time of registration, candidates have to pay the counseling fee. Fee paid candidates will be eligible for DV and exercise web options.
Step 2 – Certificate Verification for CPGET 2020 Counselling
Candidates registered with TSCE portal need to attend the Certificate Verification process at the allotted DV centers. Osmania University has already released the Document verification dates (course-wise). Candidates can attend the DV round as per their rank.
Step 3 – Exercising Web Options
Exercising web options is nothing but, candidates have to select their preferred colleges/courses.
Step 4 – CPGET Seat Allotment 2020-2021
After the web option scrutinizing process is done, the university will declare the seat allotment result. The seat allotment will be done in various phases. Candidates allotted admission has to download the call letter to report at the allotted colleges.
TS CPGET Decentralized Document Verification Process – Complete Schedule
Decentralized Verification Centres:
Directorate of Admissions, Osmania University, Hyderabad–500 007
University College of Commerce & Business Management, Kakatiya University Campus, Vidyaranyapuri, Warangal – 506 009
Telangana University Campus, Dichpally, Nizamabad–503 322
Mahatma Gandhi University Campus, Yellareddyguda, Nalgonda–508 254
Palamuru University Campus, Bandameedipally, Mahabubnagar–509 001
University College of Science, Satavahana University Campus, Karimnagar – 505 002