TS Inter Practical Exams 2021 Postponed: All the Principals of Government /Govt. Sector / Private Junior Colleges; and Students of 2nd year Intermediate (General) and 1st, 2nd Year (Vocational) are hereby informed that due to Covid – 19 pandemics, the Practical Examinations for General & Vocational Courses, IPE 2021 scheduled from 07.04.2021 to 20.04.2021 have been postponed and be conducted after Theory Examinations i.e., from 29.05.2021 to 07.06.2021.
TS Inter 2nd Year Practical Exams 2021 Postponed (ఇంటర్‌‌ ప్రాక్టికల్‌ పరీక్షలు వాయిదా)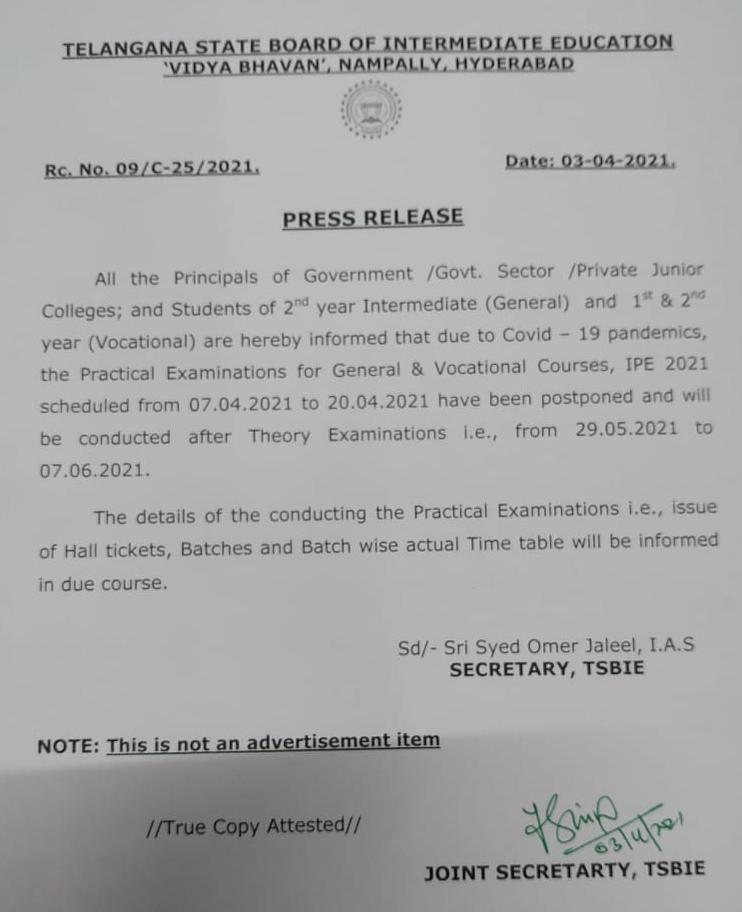 The details of the conducting the Practical Examinations i.e., issue of Hall tickets. Batches and Batch wise actual Time table will be informed in due course.
Also Check: TS Inter 2nd Year Practical Hall ticket 2021
| | |
| --- | --- |
| Original Dates | Revised Dates |
| 7th April to 20th April, 2021 | 29th May to 7th June, 2021 |
తెలంగాణలో ఇంటర్మీడియట్‌ ప్రాక్టికల్‌ పరీక్షలు వాయిదా
తెలంగాణలో ఇంటర్మీడియట్‌ ప్రాక్టికల్‌ పరీక్షలు వాయిదా పడ్డాయి. ఈ నెల 7 నుంచి జరగాల్సిన పరీక్షలు కరోనా వ్యాప్తి దృష్ట్యా వాయిదా వేస్తున్నట్లు ఇంటర్‌బోర్డు వెల్లడించింది. వాయిదాపడ్డ ప్రాక్టికల్స్‌ను‌, థియరీ పరీక్షల తరవాత మే 29 నుంచి జూన్‌ 7 వరకు నిర్వహిస్తామని తెలిపింది.
As we Know that, With a Surge in the Covid 19 (Corona) Cases day by day, TS Government has temporarily shut the colleges from march 24th. So, Now also due to rising the cases and deaths Telangna inter 2nd year Practical exams postponed and will be conducted after theory exams. Now, the practical examinations will be conducted after Intermediate Public Examinations (IPE) (theory) i.e., from May 29 to June 7.