TS Junior Panchayat Secretary Edit of Application (Correct the data) 2018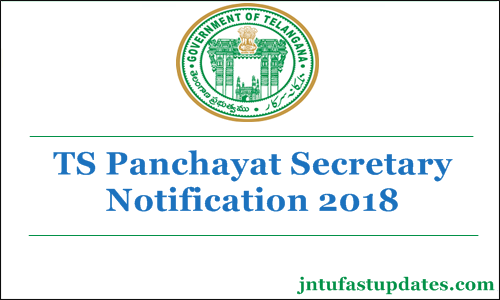 Read the Instructions before Edit of Appilcation :
Edit option can be availed only to correct the data if any mistake is made.

You can avail edit facility for two days i.e from 16.09.2018 to 17.09.2018.

During Edit process, always press "SAVE button" to update the modifications.

Candidate can edit application through the edit option, available on website only.

The Edit Option will be considered for one time only. Press Submit Buttron in the resubmit application link to confirm/finalise your modifications.

Edit application will be provided as follows

1. Edit facility will be provided to all the fields other than i.e exam center, mobile no and email.

2. After login, a navigation page shows both edit and print buttons. Those who wish to edit application can click edit button and proceed. Select "Print "option " those who want to print the application form

3. In case edit button is opted, the web page with the fields shown below will appear.

i. local status claimed by candidate,

ii. community,

iii. differently abled person,

iv.EX service person

If candidate has any changes in these fields, select the edit button provided on the bottom of the page and proceed for editing of the fields. Please note that Some of the Candidates have to pay Rs.400 based on the modifications made on these payment related fields. If modifications done are leading to payment, pay the Rs.400 and upon successful payment, the modifications will be updated and candidate can proceed for the modifications of other fields.

If modifications don't require payment, modifications will be updated and candidate can proceed to the modifications of other fields. In between the edit process, the print application option will be disabled. So complete the total edit process and submit the edit attempted. Then candidate can print application with modifcations later. Be very cautious and take utmost care this time as this data will be considered up to final selection. Email or Telephone requests will not be considered.
Date of written examination for Paper-I & Paper-II is scheduled on 4th October 2018(Thursday).
Time Paper 1: 10:00 AM to 12:00 noon and Paper 2: 3:00 PM to 5:00 PM
The Last Date is extended for payment of Application Fee upto 14-09-2018 (Midnight) and for submission of applications upto 15-09-2018 (Midnight)
Steps to fill online application form
1. One time Registration with mobile and email
2. Change Password From Date of birth to your choice
3. Fee Payment
4. Fill and submit Application Form