TS LAWCET & PGLCET Results 2019: Download Telangana Lawcet Rank Card and Pglcet Rank Card Released at Manabadi, lawcet.tsche.ac.in. Candidates can check their Telangana State Law & PG Law Common Entrance Result with marks below.
TS LAWCET & PGLCET Results 2019 – Download Lawcet Rank Card Manabadi
Online Application of TS LAWCET is Law Common Entrance Test LAWCET 2019 and PGLCET is an Postgraduate Law Common Entrance Test which was conducted in various examination centers at Telangana on 20th may. Since then, Candidates are been awaiting for Telangana LAWCET/PGLCET Results.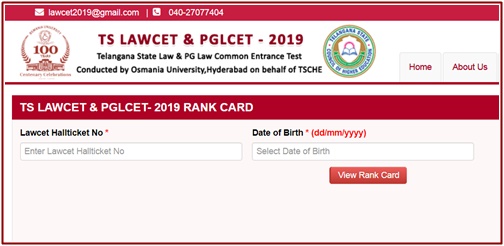 Basically this exam is for Admission into the 3 year and 5 year LL.B / B.L and LL.M Courses which are conducted by the State Universities of Telangana, The Affiliated Colleges of Telangana will responsibility for the Academic year 2018-19.
Telangana LAWCET / PGLCET Exam Results 2019
A Common Entrance Test, designated as Telangana State Law Common Entrance Test-2018 (TS LAWCET-2019) and Telangana State PG Law Common Entrance Test – 2019 (TS PGLCET-2019) conducted by the CONVENER, TS LAWCET/ TS PGLCET-2019, Osmania University, Hyderabad on behalf of the Telangana State Council of Higher Education for admission into 3Year / 5Year LL.B. Regular Courses and 2 year LL.M. Courses in the Colleges of Law in Telangana for the academic year 2019-20.
TS LAWCET / TS PGLCET Results 2019 & Rank Card Released. Download From Below
TS LAWCET Results & Rank Card 2019 – Available Now
Telangana PGLCET 2019 Rank Card – Available Now
NOTE : 1) The qualifying marks for PGLCET course is 30,
for LAWCET – 3 YEARS course is 42
for LAWCET – 5 YEARS is 42
2) RANK column consists either Rank or 'NQ' or 'WH'.
NQ –> Not Qualified,
WH –> WithHeld.
For WithHeld candidates result will be awarded after submission of required evidences.
3) '*' in RANK indicates that candidates claimed SC, ST category, hence no minimum qualifying mark.Rank is valid on production of valid caste certificate at the time of admission.
How To Check TS LAWCET / PGLCET 2019 Results
• Firstly Log-on into official website http://lawcet.tsche.ac.in
• Find and Click on the Link: TS LAWCET/ TS PGLCET Results 2019
• Enter Valid Hall Ticket Number.
• Click on submit button.
• You will be directed for Results page.
• Print or save the copy for further reference.