TS PECET Hall Tickets 2018 Download: It is hereby informed that the Telangana PECET-2018 Physical Efficiency and Games Tests will begin from 14th of May 2018 at Mahatma Gandhi University Grounds, Nalgonda. Hall tickets may be downloaded from 3rd of May 2018.
TS PECET Hall Tickets 2018 Download – Telangana Physical Efficiency CET Admit Card
A Common Entrance Test designated as Telangana State Physical Education Common Entrance Test (TSPECET – 2018) will be conducted by Mahatma Gandhi University for the academic year 2018-2019 for seeking Admission into B.P.Ed.(2 Years) and D.P.Ed. (2 Years) Courses. The Application form is for Common Entrance Test for the entry into the Physical Education courses.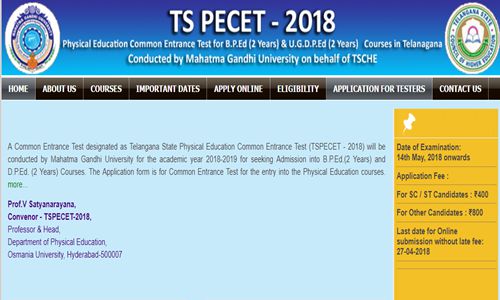 The date venue and time of Physical Efficiency Tests will be furnished in the hall ticket. The Date and Time of tests of all candidates will be displayed in the Website pecet.tsche.ac.in.
Candidates can download their hall tickets from the website. Candidate should report at the testing Center half-an hour before the commencement of the tests with their own playing kit. The tests will be held in two parts i.e. a) Physical Efficiency Tests b) Skill Test in Game.
NOTE: Hall tickets will not be sent to the Candidates. Therefore the Candidate should download the Hall ticket from the following Website: pecet.tsche.ac.in
For further information visit website: pecet.tsche.ac.in.
1. Total No. of applications received as on date 4911.
2. Course wise B.PED 2587, D.PED 2324.
3. MALE candidates 3634 and FEMALE 1277.
4. 14.to 18. May 2018 Men Selections will be held.
5. 19. and 20. May 2018 Women Selections will be held.
6. Complete Details will be available in the Hall Tickets.