TS PGECET Counselling Dates 2018 Rank Wise, Certificate verification, Web Options details are available at pgecetadm.tsche.ac.in.
TS PGECET Counselling Dates 2018 Rank Wise, Certificate verification, Web Options @ pgecetadm.tsche.ac.in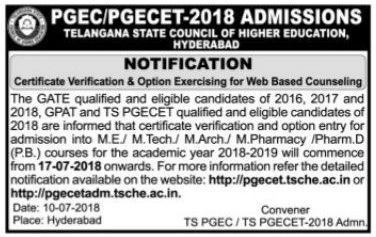 The GATE qualified and eligible candidates of 2016, 2017 and 2018, GPAT and TS PGECET qualified end eligible candidates of 2018 are informed that certificate verification and option entry for admission into M.E/M.Tech/ M.Arch/ M.Pharmacy/Pharm.D (P.B) courses for the academic year 2018-2019 will commence from 17-07-2018. For more information refer the detailed notification available on the website: pgecet.tsche.ac.in or pgecetadm.tsche.ac.in.
Candidates are informed that they should satisfy the admission rules prescribed in the related G.O. besides satisfying the eligibility criteria of the respective universities and should be prepared to pay the tuition fee as applicable.
The left over seats after allotment for GATE / GPAT Candidates are alone available for TS PGECET candidates
This notification itself is a call for web counseling. No separate call letters are sent to the individual candidates.
Mere attending of the web counseling does not guarantee a seat.
Candidates have to pay non-refundable processing fee of Rs.600/- for SC/ST candidates and Rs.1200/- for others at the time of certificate verification.
Important Dates:
Certificate verification: 18-07-2018 to 22-07-2018
Web Options Starts From: 20-07-2018 to 21-07-2018
Seat Allotment: Coming Soon
Commencement of Class Work: Coming Soon
WEB COUNSELING SCHEDULE for GATE-2016/2018/2018 & GPAT 2018 candidates:
| | | | |
| --- | --- | --- | --- |
| Certificate Verification | Time | GATE /GPAT | Exercising web options |
| 17-07-2018 | 9:00 AM | All eligible and qualified candidates | 20-07-2018 to 21-07-2018 |
COUNSELING SCHEDULE for TS PGECET-2018
S.No

Certificate verification

Time

PGECET Rank

Exercising Web Options

From
To

1

18-07-2018
9:00AM
1
250
21-07-2018 to 22-07-2018
1:00 PM
251
500

2

19-07-2018
9:00AM
501
700
22-07-2018 to 23-07-2018
1:00 PM
701
1200

3

20-07-2018
9:00AM
1201
1450
23-07-2018 to 24-07-2018
1:00 PM
1451
1900

4

21-07-2018
9:00AM
1901
2150
24-07-2018 to 25-07-2018
1:00 PM
2151
2600

5

22-07-2018
9:00AM
2601
3000
25-07-2018 to 26-07-2018
1:00 PM
3001
Last Rank
Telangana PGECET 2018 Counselling Notification, Certificate verification, Web Options
Fee to be paid: Tuition fee particulars and seats available under Convener Quota, college wise, will be made available in the website http://pgecet.tsche.ac.in or http://pgecetadm.tsche.ac.in well before the commencement of option entry. The fee reimbursement for eligible candidates is subject to the guidelines issued by the Government from time to time.
Candidates claiming NCC/CAP/SPORTS/PH (Special Categories) have to attend for certificate verification at A.V. College of Arts, Science & Commerce, Gaganmahal, Hyderabad, Telangana. Helpline center only as per the schedule. However, they shall exercise web options on the dates mentioned above against their rank.
SCHEDULE for Special Categories (certificate verification)
DATE
SUBJECT
SPECIAL CATEGORY
17-07-2018
GATE/GPAT
NCC, CAP, PH
PGECET
NCC, CAP, PH
PH Category: Candidates have to produce a certificate issued by the District Medical Board and only candidates who have disability of 40% and above are eligible.
CAP Category: Ex-Servicemen have to produce:
1. Service Certificate issued by Zilla Sainik Welfare Officer.
2. Identity Card
3. Discharge Book for verification.
Serving persons have to produce Service Certificate from the place of Work indicating the relationship with the Candidate. Candidates whose parents are domiciled in the State of Telangana based on the Permanent Address / Home Town declared by them while joining the service and as recorded in their Service Register are alone eligible to be considered under "CAP" Category".
NCC & Sports: Candidates have to produce Original Certificates issued by the concerned Competent Authority.
List of helpline centers (for certificate verification of other categories viz., OC, BC, SC, ST etc)
| | |
| --- | --- |
| S.No | Name of the Help Line Centre |
| 1 | JNTUH University, Kukatpally, Hyderabad |
| 2 | University P. G. College Secunderabad. |
| 3 | Nizam College Basheer Bagh, Hyderabad. |
| 4 | Kakatiya University, Warangal |
Certificates to be submitted:
The following Original certificates are to be submitted at the time of verification
GATE Score / GPAT /PGECET Rank Card & also PGECET Hall Ticket.
Degree Certificate & Memorandum of marks of qualifying Examination.
Memo of SSC or its equivalent.
Study certificates from 10th class to Graduation
Residence certificate for preceding 7 years of the qualifying examination i.e. Graduation in respect of candidates who have private study without any institutionalized education.
Integrated community certificate issued by the competent authority in case of BC/SC/ST candidates.
Residence certificate from M. R. O of either of parents in Telangana for 10 years in case of non-local candidates.
Transfer Certificate.
Income Certificate issued after 01.01.2018.
Aadhar Card
Minorities: Degree TC containing mention of Minority Status to whomsoever applicable
Web Counselling