TS SBTET Diploma C18 (3rd, 5th Sem), C16S 7th Sem Notification Feb 2021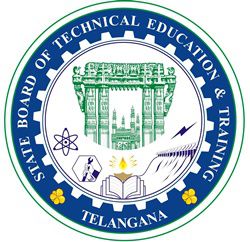 SBTET – Exams – Diploma Semester End Examination- C18 Scheme III & V Semesters & C16S VII Semester- Regular Examinations -February- 2O21-Modified Notification-Reg.
With reference to the subject cited above, I furnish herewith the detailed notification inviting applications from eligible candidates of C-18 scheme 3rd & 5th semesters attending online classes commenced w.e.f 01-09-2020 (the students who have not undergone industrial training) & C16S VII Semester to appear for the Regular examinations February-2021 commencing in the last week of February-2021 for the courses as mentioned in the Annexure-II and further the revised Question Paper Blue print (C18 Scheme only) is made available in Annexure-I in view of the COVID situation. The Time duration for C18 (III & V Semesters) & C16 Scheme (VII Semester) is of 03 Hours. A Separate notification will be issued for the students who are attending 5th semester classes as from 18-12-2020.
In this regard, it is informed that the regular candidates who are intend to appear for the examinations can approach the Polytechnics where they are studying (or) visit sbtet.telangana.gov.in for making fee payment online. After downloading the Hall Ticket from sbtet.telangana.gov.in the candidate has to obtain the signature of the concerned Head of Section/Principal before appearing for the examination. Further, Principals are requested to give the necessary instructions to the Head of Sections to sign on the hall tickets for subjects after thorough verification of eligibility.
The Principals of the concerned Polytechnics/institutions where Regular exams are being conducted are requested to ensure that the syllabus should be completed on or before 20-02-2021.
Schedule of Examination Fee Payment:
| | |
| --- | --- |
| Schedule | |
| Commencement of theory examinations | 22-02-2021 |
| Date of Commencement for payment of examination fee through Online | 25-01-2021 |
| Last date for payment of examination fee without penalty to all candidates | 06-02-2021 |
| Last date for payment of examination fee with penalty to all candidates. | 08-02-2021 |
| Last date for payment of examination fee and submission of aoolication form (UNDER TATKAL SCHEME) | 10-02-2021 |
| ee payment under Premium Tatkal | Before Examination |
Fee Details:
Fee for whole or part examination
Rs.650/-
Certificate fee for C-16S VII Semester Students
Rs.600/-
a) Late Fee (penalty)
b) Tatkal Fee (Including Examination fee)
Rs.400/-
Rs.3000/-
Premium Tatkal (Includinq Examination fee)
Rs.5000/-
Colleges can pay examination fee online for bulk students from college login (or) Students can pay fee individually from sbtet.telangana.gov.in. Transfer of Examination centre of the students is not permitted under any circumstances.
A copy of this Notification is to be displayed on the Notice board of the Institution for information of the candidates and wide publicity shall be given among the students by circulating a copy of the Notification in the class rooms.
For any clarifications please call SBTET help desk 040-23222192 during working hours or email to sbtet-helpdesk@telangana.gov.in.
Download the Official Notification Here: Click Here