TS SBTET Notification 2020: Telangana State Board of Technical Education and Training has released Diploma Examination Notification April 2020. Applications are invited from eligible candidates to appear for C18, C16S Diploma examination to be conducted by Board during April 2020.
Sub: SBTET – Exams – Diploma Semester End Examinations in the schemes of C-16S (VI Sem), C-18 (II & IV Sem), ER-91 (2nd Year) Regular-Examinations April 2020 Notification- Reg.
TS SBTET Diploma Notification 2020 For C18, C16S Regular Exams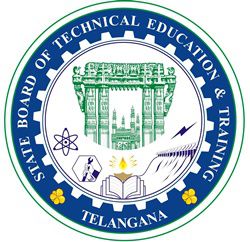 1. With reference to the subject cited above, I furnish herewith the detailed notification inviting applications from eligible candidates of C16S (VI sem), C-18 (II & IV sem) & ER-91 (2nd Yera) schemes to appear for the Regular end Semester examinations April 2020 commencing from 04-04-2020 for the courses as mentioned in the Annexure.
2. In this regard, It Is Informed that the regular candidates who are Intending to appear for the examinations can approach the Polytechnics where they are studying (or) visit sbtet.telangana.gov.in for making fee payment online. Hall tickets will be generated to the candidates who put up the required percentage of attendance to appear for the examination, After downloading the Hall Ticket from sbtet.telangana.gov.in the candidate must obtain the signature of the concerned Head of Section/Principal before appearing for the examination. Further, Prindpals are requested to give the necessary Instructions to the Head of Sections to sign on the hall tickets for subjects after thorough verification of eligibility. (Note: Before remitting the fee, the candidate shall ensure the eligibility status, since fee once paid Is not refundable or adjusted under any circumstances.)
Candidates who possess 75% of attendance only will be permitted to appear for the Regular Examination, However, the Prindpals are empowered to condone the shortage of attendance up to 10% based on Medical Grounds only, on production of supporting material of such claim, For such candidates the Head of Section of the concern Branch has to recommend for condonation through online at college login of sbtet.telangana.gov.in and forward to the Principal, the Principal has to approve online all such condonation cases on or before 03-04-2020 so as to enable the student to make the examination fee payment along with condonation fee through online, Principals are requested NOT to take any DDs towards payment of condonation fee.
4. The percentage of attendance will be calculated with total attended days by the candidate plus the Presumptive Attendance of 26 days (from 02-03-2020 to 03-04-2020) against the total working days of 90 per semester and 180 days (for ER-91 Scheme) per Year, On the last working day 03-04-2020 the actual attended days will be calculated, if any candidate secures less than 75% attendance he has to pay condonation fee to download the hall ticket. If any candidate secures less than 65% attendance as on 03-04-2020 he will be detailned and even if he pays the examination fee, hall ticket will NOT be generated for such students and fee will not be refunded or adjusted.
5. The Principals of the concerned Polytechnics/institutions where Regular exams are being conducted are requested to ensure that the completion of the syllabus before semester/Year last working day i.e. on or before 03-04-2020 as per the Academic calendar.
Also Check: TS SBTET Attendance Percentage 2020
TS SBTET 2020 Important Dates:
Conduct of Practical Examinations
Before Theory Examinations
Commencement of theory examinations
04-04-2020 (Saturday)
Date of Commencement for payment of examination fee and Industrial training fee through Online
02-03-2020 (Monday)
Last date for payment of examination fee without penalty to all candidates
11-03-2020 (Wednesday)
Last date for payment of examination fee with penalty to all candidates.
13-03-2020 (Friday)
Last date for payment of examination fee and submission of application form (UNDER TATKAL SCHEME)
16-03-2020 (Monday)
Last date for submission of Unit Test marks & S.M. to
S.B.T.E.T
08-04-2020
(Wednesday)
Submission of practical examination marks to the SBTET
21-04-2020 (Tuesday)
Fee Details:
| | |
| --- | --- |
| (i) Fee for whole or part examination | Rs. 550/- |
| (ii). For Pharmacy Course (ER-91) | Rs 675/- |
| (ii) Additional Fee for pass certificate for those who are appearing  for regular Final year/ Final semester examination | Rs. 600/- |
| (iii) a) Late Fee (penalty) | Rs. 400/- |
| b) Tatkal Fee (Including Examination fee) | Rs. 3000/- |
|  (v) Assessment fee for Industrial Training | Rs. 550 /- |
|  (v) Condonation Fee (Up to 10%) i.e. from above 65% and below 75% | Rs. 600 /- |
Download the Official Notification Here : Click Here
NOTE: 1. Issue of hall tickets to any candidate is subject to possessing 75% of attendance as on the last working day.
2. Acceptance of examination fee does not provide any right to the candidate to demand for the issue of hall ticket.
3. Detailed time – table of examinations already communicated.
4. Examination fee must be paid by cash at SBTET Official website sbtet.telangana.gov.in only.
5. Fee once paid will not be refunded or adjusted under any circumstances,
6. A student who is not eligible to appear for examination either due to shortage of attendance or other reason shall forfeit the examination Fee paid.
7. The Principals are requested to ensure that the Hall tickets will NOT be signed and issued to the candidates who are detained for shortage of attendance even though they paid the examination fee. Colleges can pay examination fee online for bulk students from college login (or) students can pay fee Individually from sbtet.telangana.gov.in. Transfer of examination centre of the students is not permitted under any circumstances.
8. A copy of this Notification Is to be displayed on the Notice board of the Institution for Information of the candidates and wide publicity shall be given among the students by circulating a copy of the Notification in the class rooms.
9. For any clarifications please call SBTET help desk 040-23222192 during working hours or email to sbtet-helpdeskOtelangana.gov.In. The receipt of this Notification may please be acknowledged.