TSPSC Assistant Engineers in Various Engineering Subordinate Service Supplemental Results.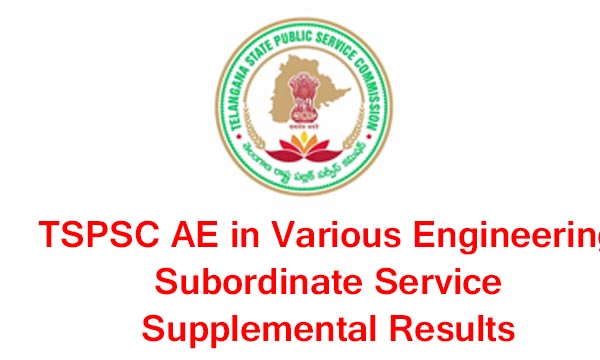 TELANGANA STATE PUBLIC SERVICE COMMISSION::HYDERABAD
ASSISTANT ENGINEERS IN VARIOUS ENGINEERING SUBORDINATE SERVICES, MUNICIPAL
ASSISTANT ENGINEER AND TECHNICAL OFFICERS IN PUBLIC HEALTH AND MUNICIPAL ENGINEERING SUBORDINATE SERVICE
NOTIFICATION NO.09/2015, Dt: 29-08-2015 (General Recruitment)
RESULT NOTIFICATION
1. In continuation to the Result Notification dated 18/01/2016 of the Written Examination held on 07/11/2015 to the posts of Assistant Engineers in various Engineering Subordinate Services, Municipal Assistant Engineer and Technical Officers in Public Health and Municipal Engineering Subordinate Service, the registered numbers of the candidates who are provisionally admitted for the Verification of Certificates are placed in the Commission's Website.
2. The candidates who possess the certificate of the Department of Electronics Accreditation of Computer Courses (DOEACC) 'O' level computer qualification administered by the DOEA society under the Ministry of Information Technology Govt., of India OR a Diploma or Certificate in Computer Applications awarded by the State Board of Technical Education or its equivalent qualifications as recognized by the State Board of Technical Education as already notified vide Notification No.9/2015 dated. 29/08/2015 for the post of AE (Civil) in R&B Department (PC.No.02) have been provisionally admitted for verification of certificate due to short fall of candidates with the aforesaid qualification.
3. The candidates who are qualified for verification of Certificates are required to produce the Original Certificates along with two sets of Photostat copies duly attested by Gazetted Officer, relating to Age, Qualifications, Community (Integrated), Latest Creamy Layer exemption certificate in case of B.Cs as per Memo No.3009/BCW/OP/2009, Government of Telangana, Backward Classes Welfare (OP) Department, Dt:18/12/2015 (prescribed format hosted on website), Certificates relating to claim of age relaxation, Study (from 4th class to 10th class) and Computer Certificate (mentioned in above para) at the time of verification of documents, failing which, they will not be admitted in subsequent process of selection. No request will be entertained for subsequent submission of any of the above certificates.
4. The verification of the certificates will be held at TSPSC Office, Nampally, Hyderabad on 24.01.2016 from 8.30 AM onwards. The eligible Candidates should download the Check lists, Attestation Forms and other Relevant forms from the Commission's website and should submit the same duly filled in at the time of verification of certificates. 5 If, on further verification it is found that any candidate is not eligible with reference to the particulars furnished by him/her in the Application Form / Check List / Certificates, the results of such candidate(s) shall be cancelled at any stage of selection process.
Click Here For Official Notification