TSWREIS Inter Admissions 2020 Notification: Telangana social welfare residential educational institutions society (TSWREIS) has released notification Admission into 1st Year Intermediate COEs for the Academic year 2020-21. Eligible candidates can apply online from 28th November till 20th December, 2019 at tswreis.in.
TSWREIS Inter Admissions 2020 Notification – Apply Online 1st Year Admission @ tswreis.in
Applications are invited for admission into TSWREIS COEs for Intermediate 1st year in Telangana Social Welfare Residential Centre of Excellence Colleges. The list of colleges, groups and special coaching offered are detailed here under.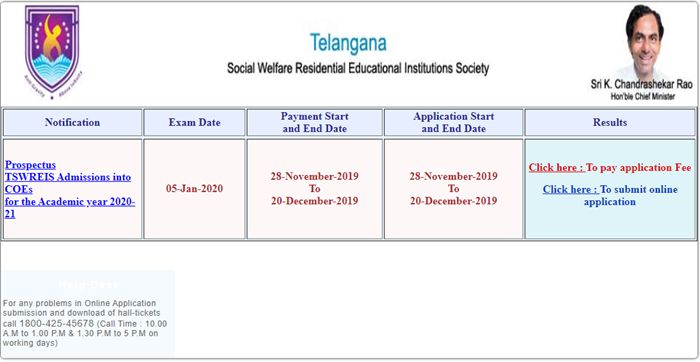 Details of TSWREIS Inter Admissions 2020 Notification:
Notification
TSWREIS Admissions into COEs
for the Academic year 2020-21
Exam Date
05-Jan-2020
Payment Start
and End Date
28-November-2019
To
20-December-2019
Application Start
and End Date
28-November-2019
To
20-December-2019
Mode of Application
Online
Application Fee
Rs 100
Official website
www.tswreis.in
TSWREIS Inter Admissions 2020 – Important dates:
Sl. No.
Items
Dates
1
Date of Notification
27-11-2019
2
Applications will be available
28.11.2019
3
Last date for receipt of the applications (on line)
20-12-2019
4
The candidates can download Hall ticket from
25-12-2019
5
Date of Entrance Test at  level- I
05-01-2020

6

Issue of 1st level qualified Candidates for 2nd level through website and SMS at the ratio of 1:3.
03-02-2020
7
Date of Entrance Test at  level-II
09-02-2020
8
Announcement of results through website of level
09-03-2020
9
Date of intimation by the Principals of COEs concerned (Call letters will be sent to the selected candidates).
30-03-2020
10
Date of re-opening of the Colleges for the academic

year 2020-2021

01-06-2020
Eligibility:
The students who are appearing for SSC Public Examination in March2020/10th class from ICSE / CBSE on regular basis are eligible to write the entrance test. The students who secure A1 to B2 in SSC are eligible for admission in to COEs and the students who pass SSC in March, 2020 (on regular basis) are eligible for admission into Centre of Excellence Colleges.
The annual income of the parent shall not exceed Rs.2,00,000/- per annum (for Urban students) and Rs.1,50,000/- (for Rural students) as certified by MRO.
The students from Telugu Medium OR English Medium are eligible for this entrance test.
The age of the students shall not exceed 17 years as on 31.08.2020. In case of SC students and SC c converted Christian relaxation of age for 2 years will be allowed.
The students should produce all relevant certificates at the time of admission, then only the admission will be confirmed.
Reservation:
Community wise reservation
| | | |
| --- | --- | --- |
| SI.No. | Community | % of Reservation |
| 1. | SC | 75% |
| 2. | SC converted Christian | 2% |
| 3. | ST | 6% |
| 4. | BC | 12% |
| 5. | Minorities | 3% |
| 6. | OC / EBC | 2% |
| | Total: | 100 |
3% of overall seats shall be reserved to the Physically Handicapped (Orthopedically handicapped, Hearing impaired and Visually handicapped, Loco-motor disabled) students irrespective of caste, who can attend their work without anybody's help based on the certificate issued by the Medical Boar
PH candidates who can do their works on their own without any body's assistance only are eligible for admission into COEs.
Click here to apply Admission into 1st Year intermediate in COEs for the Academic year 2020-21.
Notification for Admission into 1st Year Intermediate COEs- 2020-21
Admission procedure / Selection process:
1. The applicant must submit his / her application only through ONLINE by visiting website www.tswreis.in.
2. There is a registration fee of Rs.100/- for submission of application through ONLINE from any Internet centre through NET banking / Credit Card / Debit Card.
3. Before filling the application through online the candidate have to read the information/ prospectus already uploaded in the website www.tswreis.in
4. [*ADVICE: they can prepare a hard copy first and then fill though online to avoid mistakes].
5. Please upload the photo and signature of the candidate within 100 kb size only.
6. The Candidates must opt the colleges while applying on-line. The candidates shall be considered for admission into the colleges according to their option, based on the availability of seats in those Institutions and based on their merit in that caste. The option once exercised is final and cannot be changed.
7. The Candidates are advised to download the Hall ticket from 30.12.2019 to 05.01.2020 for appearing to the 1st screening test scheduled on 05-01-2020. The candidate should fill the bonafide Certificate (provided at the bottom of the Hall ticket) and get signed by the Head Master / Principal concerned where he / she is studying 10th class and handover it to the Invigilator at the time of entrance test.
1st Level Screening Test:
This is a paper based OMR test and will be held on 05-01-2020, in the following subjects for 160 marks.
The Questions will be of multiple choice type [MCQs].
Each question carries ONE mark. Each Question has only one correct answer.
For each wrong answer ¼ mark shall be deducted.
The candidates should write and bubble from the set of question paper given to them in the space provided in OMR without fail. Otherwise the valuation cannot be done.
The admission shall be provided based on the merit and community reservation.
S.No
Date and Time
Subjects
Marks
1.
05-01-2020 from 10:00 am to 01:00 pm
Maths
30
Physical Science
30
Bio Science
30
Social Studies
30
English (Comprehension & Grammar)
20
General Knowledge and Current Affairs
20
TOTAL Marks
160
There shall be a second level screening test for the students willing to join IIT / COE.
Institution list for Social Welfare:
Sl. No
Name of the College
Boys/ Girls
No. of Seats
Erstwhile

Districts

MPC
BPC
MEC
CEC

01

TSWR COE (G), GOWLIDODDI, RANGA REDDY

Girls

80
80
40
—
Open to all for the students in the state of Telangana

02

TSWR (IIT-MEDICAL)JC (B), GOWLIDODDI, RANGA REDDY

Boys

80
80
–
–

03

TSWR COE, ALUGUNOOR, KARIMNAGAR

Girls

80
80
–
–
04
DR.BRACTSWRJC (G), COE, KHAMMAM.

Girls

80
80
–
–
05
DR.BRACTSWR COE HATHNOORA, SANGAREDDY

Boys

80
80
–
–

06

TSWRS/JC.(B), HAYATHNAGAR, R.R.DIST.

Boys

40
40
–
–
07
TSWRS/COE (B), WARDHANNAPET AT

Boys

40
40
–
–

08

TSWR COE (B) BHONGIR, YADADRI BHUVANAGIRI DIST.

Boys

40
40
–
–

09

TSWRS/JC (G) COE DHARMARAM-B, NIZAMABAD

Girls

40
40
–
–

10

TSWRS/JC (G) NARSINGHI, RANGA REDDY, DIST.
Girls
40
40
–
–

11

TSWRS/JC COE (B), KONDAPUR, SANGAREDDY
Boys
40
40
–
–

12

TSWR COE (G), CHITKUL, SANGAREDDY DIST.
Girls
40
40
–
–

13

TSWRS/JC (B) COE J.P.NAGAR, NAGAKURNOOL

Boys

40
40
–
–

14

TSWRS/JC (G) COE, MAHENDRA HILLS,

Girls

40
40
–
–

15

TSWRS/JR. COLLEGE (G)

G.V.GUDEM, NALGONDA

Girls

40
40
–
–

16

TSWRS/JC COE (B)

BELLAMPALLI, MANCHERIAL

Boys

40
40
–
–

17

TSWRS/JC (G) COE,

KAMMADANAM, RANGAREDDY

Girls

40
40
–
–

18

TSWRS/JC (G), COE,

NALLAKANCHE DIST.

Girls

40

40

–
–

19

TSWRS/JC COE (G),

MADIKONDA, WARANGAL

Girls

40
40
–
–
20
TSW BHIKNOOR (B)

Boys

40
40
–
–

21

TSWRS/JC COE, ADILABAD, ADILABAD DIST.

Girls

40
40
–
–
22
TSWRS/JC (B) COE, CHILKUR RR DIST.

Boys

40
40
–
–
23
TSWRS/JC COE (B), PALVANCHA BHADRADRI – KOTHAGUDEM DISTRICT

Boys

40

40

–
–
24
TSW COE SHAIKPET
Boys
40
40
–
–
25
TSW COE DANAVAIGUDEM
Girls
40
40
–
–
26
TSW COE MANAKONDUR
Boys
40
40
–
–
27
TSW MEDCHAL Arts
Girls
–
–
40
40
28
TSW IBRAHIMPATNAM Arts
Boys
–
–
40
40