West Bengal HS Routine 2018: WBCHSE has announced the date sheet for Higher Secondary Examinations 2018 at wbchse.nic.in. The West Bengal HS Examinations will begin on 27th March, Students of West Bengal 12th class can check Time table separately for both old and new syllabus.
Board president Professor Mahua Das  told that the examination will start on 27th March and end on 11th April, 2018. Candidates who are interested in Higher Secondary Examinations can prepare well in advance for the exams can download the timetable from the specified below link. Students who are pursuing under West Bengal board of secondary education can know the details of examinations 2018 from the official website: http:/wbchse.nic.in
West Bengal HS Routine 2018 – WBCHSE 12th Class Time Table Download
WB Board 12th Routine 2018: The Higher Secondary of the Council is to advise the State Government on all matters relating to Higher Secondary Education referred to it by the State Government. The Council has the power to direct, supervise and control the major functions of the Council is to assess periodically the Educational needs at higher secondary level at the state and lay down the General policy for the development of the Higher Secondary Education is to provide for inspection of Recognized Institutions and to provide by regulations, the curriculum, syllabus, the courses of studies to be followed and the books to be studied in Recognized Institutions.
Also Check: WB Board 10th Date sheet 2018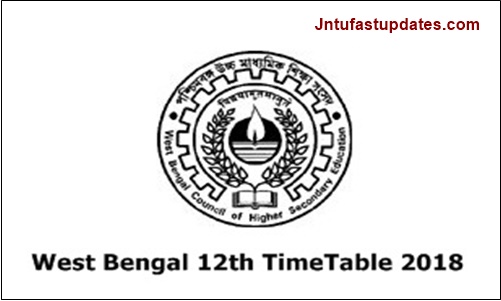 WB Board 12th Exam Details 2018:
 Name of Exam

: WBCHSE Board 12th Examinations 2018

Exam Dates: 27th March To 11th April 2018
Last Fee Date: Expected 15th December 2017
Admit Card Released Date: February 2018
Category:  WBCHSE Board 12th Exam 2018
Official site: wbchse.nic.in
How to download WB Board Higher Secondary(HS) Exam Schedule 2018 Online
By following such steps you can get your exam routine after that students prepare as per schedule
First of all visit to official website: wbchse.nic.in
Visit to examination portal
Look for exam date sheet 2018
Click on time table 2018
Download the PDF
Print out the hard copy for further use.
West Bengal HS Routine 2018 PDF
West Bengal 12th Time Table/Routine 2018 (For New Syllabus)
| | | |
| --- | --- | --- |
| Date | Day | From 10.00 a.m. to 1.15 p.m. (MORNING) |
| 27.03.2018 | Tuesday | Bengali (A), English (A), Hindi (A), Nepali (A), Urdu, Santhali, Odia, Telugu, Gujrati, Punjabi |
| 29.03.2018 | Thursday | English (B), Bengali (B), Hindi (B), Nepali (B), Alternative English |
| 31.03.2018 | Saturday | Geography, Costing and Taxation, Home Management and Family Resource Management |
| 02.04.2018 | Monday | #Automobile, #Organised Retailing, #Security, #IT and ITES -VOCATIONAL SUBJECTS |
| 04.04.2018 | Wednesday | Physics, Nutrition, Education, Accountancy |
| 06.04.2018 | Friday | Chemistry, Economics, Journalism & Mass Communication, Sanskrit, Persian, Arabic, French |
| 07.04.2018 | Saturday | Computer Science, Modern Computer Application, Environmental Studies, #Health & Physical Education, #Music, #Visual Arts |
| 09.04.2018 | Monday | Mathematics, Psychology, Anthropology, Agronomy, History |
| 10.04.2018 | Tuesday | Statistics, Commercial Law and Preliminaries of Auditing, Philosophy, Sociology |
| 11.04.2018 | Wednesday | Biological Sciences, Business Studies, Political Science |
In the last year, there is a exceed number of girls than boys who have attended for Higher Secondary Examinations and they scored best grades in the examinations. We would like to greet "ALL THE BEST" to you for your bright future. We are very happy for you  being here. Thanking you for visiting our site and reading our post. We ensure that we will update our site with more fine points regularly.