What is CBCS System? Features, Advantages, Disadvantages: Most of the Indian Universities and Colleges have been following marks or percentage based evaluation system, which is acting as a barrier for students" mobility and not letting them to move from institutions to another one to pursue the desired subjects or courses. This calls that there should be a flexible system of education so that students could pursue different nature of professional and non- professional courses according to their choice and desired. That why, after a prolonged debate among the educationists and experts of concerned fields, University Grant Commission (UGC) has made it mandatory to be implemented choice based credit system (CBCS) in all the undergraduate (UG) and postgraduate (PG) courses under the XI plan of Higher Education.
What is CBCS System? Features, Advantages, Disadvantages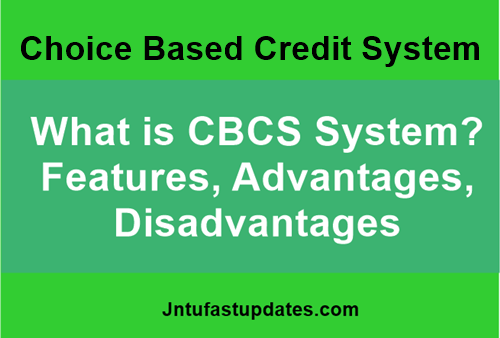 The education plays enormously significant role in building of a nation. There are quite a large number of educational institutions, engaged in imparting education in our country. Majority of them have entered recently into semester system to match with international educational pattern. However, our present education system produces young minds lacking knowledge, confidence, values and skills. It could be because of complete lack of relationship between education, employment and skill development in conventional education system. The present alarming situation necessitates transformation and/or redesigning of education system, not only by introducing innovations but developing "learner-centric approach in the entire education delivery mechanism and globally followed evaluation system as well.
What Is A Choice Based Credit System (CBCS)?
Majority of Indian higher education institutions have been following marks or percentage based evaluation system, which obstructs the flexibility for the students to study the subjects/courses of their choice and their mobility to different institutions. There is need to allow the flexibility in education system, so that students depending upon their interests and aims can choose interdisciplinary, intra-disciplinary and skill-based courses. This can only be possible when choice based credit system (CBCS), an internationally acknowledged system, is adopted. The choice based credit system not only offers opportunities and avenues to learn core subjects but also exploring additional avenues of learning beyond the core subjects for holistic development of an individual. The CBCS will undoubtedly facilitate us bench mark our courses with best international academic practices. The CBCS has more advantages than disadvantages.
Advantages Of Choice Based Credit System (CBCS):
Choice based credit system (CBCS), provides a learning platform wherein the student or knowledge seeker has the flexibility to choose their course from a list of elective, core and soft skill courses. This is a student-centric approach to learning or acquiring higher education.
This CBCS system is an initiative of University Grants Commission (UGC); which enhances and promotes educational liberalization of existing conventional higher education models.
Shift in focus from the teacher-centric to student-centric education.
Student may undertake as many credits as they can cope with (without repeating all courses in a given semester if they fail in one/more courses).
CBCS allows students to choose inter-disciplinary, intra-disciplinary courses, skill oriented papers (even from other disciplines according to their learning needs, interests and aptitude) and more flexibility for students).
CBCS makes education broad-based and at par with global standards. One can take credits by combining unique combinations. For example, Physics with Economics, Microbiology with Chemistry or Environment Science etc.
CBCS offers flexibility for students to study at different times and at different institutions to complete one course (ease mobility of students). Credits earned at one institution can be transferred.
Disadvantages:
Difficult to estimate the exact marks
Workload of teachers may fluctuate
Demand good infrastructure for dissemination of education
The CBCS provides an opportunity for the students to choose courses from the prescribed courses comprising core, elective/minor or skill based courses. The courses can be evaluated following the grading system, which is considered to be better than the conventional marks system. Therefore, it is necessary to introduce uniform grading system in the entire higher education in India. This will benefit the students to move across institutions within India to begin with and across countries. The uniform grading system will also enable potential employers in assessing the performance of the candidates. In order to bring uniformity in evaluation system and computation of the Cumulative Grade Point Average (CGPA) based on student's performance in examinations.
Meaning Of Choice Based Credit System (CBCS) In Brief
CBCS – Choice Based Credit System
CHOICE BASED – Choice of multiple courses
GRADING – Marks secured is in letter grade format
SEMESTER – Learner- Teacher Engagement Quotient can be measured/ identified semester-wise
CREDIT – Class hours per week carries additional importance in credit system
ASSESSMENT – In the form of class room attendance, Mid Term Tests etc; is continuous and wide-ranging.
UGC has introduced a 10-point grading system as follows:
| | |
| --- | --- |
| O (Outstanding) | 10 |
| A+ (Excellent) | 9 |
| A (Very Good) | 8 |
| B+ (Good) | 7 |
| B (Above Average) | 6 |
| C (Average) | 5 |
| P (Pass) | 4 |
| F (Fail) | 0 |
| Ab (Absent) | 0 |
iii. A student obtaining Grade F shall be considered failed and will be required to reappear in the examination.
iv. For non credit courses "Satisfactory" or "Unsatisfactory" shall be indicated instead of the letter grade and this will not be counted for the computation of SGPA/CGPA.
v. The Universities can decide on the grade or percentage of marks required to pass in a course and also the CGPA required to qualify for a degree taking into consideration the recommendations of the statutory professional councils such as AICTE, MCI, BCI, NCTE etc.,
vi. The statutory requirement for eligibility to enter as assistant professor in colleges and universities in the disciplines of arts, science, commerce etc., is a minimum average mark of 50% and 55% in relevant postgraduate degree respectively for reserved and general category. Hence, it is recommended that the cut-off marks for grade B shall not be less than 50% and for grade B+, it should not be less than 55% under the absolute grading system. Similarly cut-off marks shall be fixed for grade B and B+ based on the recommendation of the statutory bodies (AICTE, NCTE etc.,) of the relevant disciplines.
Credits are calculated keeping in mind the following components:
Lecture (L)
Tutorial (T)
Practical (P)
Suggestions for Better Implementation of CBCS in Higher Education
Following points could be considered as the suggestions/opinions regarding the CBCS.
Undoubtedly, CBCS is students" friendly but things are yet to be needed to justify the efficacy of it. Class room teaching should be given importance.
Seminars, Conferences and debate should be organised to discuss its merits and demerits in detail.
Professional training should be given to the teachers to handle it effectively.
Provision of both Percentage and grading system should be maintained.
Its adaptation should be optional or choice based rather than mandatory.
All the P.G college of India should also be brought under the CBCS, as they also catering the responsibility of Higher Education on a large scale.
Equalization in standard of education system should be maintained so that mobility of students could be checked.
Selection of papers and choosing credits should be governed by the concerned department/ institution.
To make it more effective, guidance and counselling services should be arranged for the teachers and students while choosing soft core papers.
Care should be taken about the gap between Central and state Universities in regard to quality of education as well as the availability of infrastructure at point.