TS EDCET Counselling Dates 2020 Rank wise: The qualified candidates of TS Ed.CET-2020 Examination are informed to attend web based counselling for admission into two years B.Ed. course for the academic year 2020-2021, as per G.O.MS No.24, dated: 24/08/2017, on the dates mentioned as per the schedule given below.
TS EDCET Counselling Dates 2020 Rank wise, Certificates Verification, Web Options Entry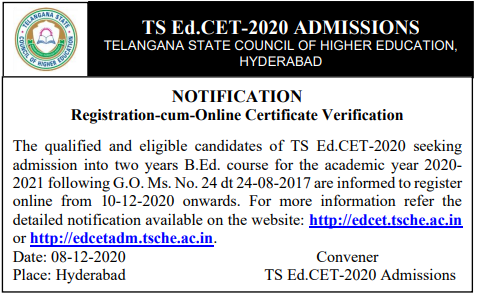 Details of TS EDCET Counselling Dates 2020:
Conducted by
Osmania University
Name of the Exam
Telangana State Education Common Entrance Test-2020 (TS Ed.CET-2020)
Counselling Starts from
10th December 2020
Official website
edcet.tsche.ac.in

edcetadm.tsche.ac.in
Schedule for – TS Ed.CET-2020 ADMISSIONS
S.No.
Event
Schedule
1
Issue of Notification
08th December, 2020
 

2

Online    Registration    cum    verification,    online payment along with uploading scanned copies of

certificates for verification (Refer to Point No. D)

 

10-12-2020 to 17-12-2020

 

3

Physical      verification      of     Special      category

certificates (NCC / CAP / PH / Sports) by slot booking (Refer to Point No. C)

 

14-12-2020 to 17-12-2020

4
Display of List of Eligible candidates and call for

corrections if any through E-mail

20-12-2020
5
Exercising Web options- Phase I
21-12-2020 & 22-12-2020
6
Edit of web options-Phase -I
23-12-2020 upto 05:00 PM
 

7

List of Provisionally selected candidates will be prepared College wise and will be placed in the website (Phase-I)
 

26-12-2020

 

8

Reporting at concerned colleges for verification of Original Certificates along with Tuition Fee

payment challan.

 

28-12-2020 to 31-12-2020

9
Commencement of Class work
04-01-2021
10
PHASE II Counselling
Will be announced latter
Candidates are informed that they should satisfy the admission rules prescribed in the related G.O.MS No.24, dated: 24/08/2017 and should be prepared to pay the tuition fee as applicable.
This notification itself is a call for web counseling. No separate call letters are sent to the individual candidates.
Mere attending of the web counseling does not guarantee a seat.
All candidates are informed to register online at http://edcetadm.tsche.ac.in from 10th December, 2020 to 17th December, 2020 and furnish all information in the online application form. All the entries should be correct and the candidate is solely responsible for any incorrect entry.
All the candidates have to pay non-refundable Processing Fee Rs. 800.00 (Rupees: Eight Hundred only) and Rs. 500.00 (Rupees: Five Hundred only) in case of SC/ST Candidates towards Registration cum online verification process which has to be paid through online payment (Credit Cards/Debit Cards/Internet Banking) in favour of 'Secretary, TSCHE'
Tuition fee particulars and seats available under Convener Quota College wise will be notified on the websites: https://edcet.tsche.ac.in or http://edcetadm.tsche.ac.in/ well before the commencement of counseling (web option entry). Tuition Fee and Special Fee as fixed by the Government shall be paid per annum.
The fee reimbursement for eligible candidates is subject to the guidelines issued by the Telangana State Government from time to time.
Eligibility:
The candidate should be of Indian
The candidate should belong to the State of Telangana / Andhra
The candidate should satisfy the local/non-local status requirements as laid down in the regulations of admission. (Ref. G.O.MS No.24, dated: 24/08/2017)
Candidates should have secured 50% marks either in the Bachelors Degree i.e., B.A. / B.Sc. / B.Com / B.Sc (Home Science) / BCA / BBM and or in the Masters Degree or any other qualification equivalent
Bachelors in Engineering or Technology with specialization in Science and Mathematics with 55% aggregate marks or any other qualification equivalent
However, the candidates belonging to reserved categories viz., SC/ST/BC and other reserved categories should have secured 40% marks in the qualifying
CERTIFICATES TO BE PRODUCED BY ALL CANDIDATES:
Degree certificate of qualifying exam and memorandum of marks
Intermediate Memo-cum pass certificate or its equivalent
SSC or its equivalent marks memo
Study certificates from 9th class to Graduation
Residence certificate for preceding 7 years of the qualifying examination i.e. Graduation in respect of candidates who have private study without any institutionalized
Residence certificate of either of parents in Telangana for 10 years in case of non-local candidates excluding the period of employment outside the state. This certificate should be obtained from the
Residence certificate from R.O either of parents in Telangana for 10 years in case of non-local candidates.
In respect of Non-Local candidates in order to consider them for allotment of unreserved seats the following certificates needs to be submitted.
Residence Certificate: Candidates who has resided in the State for a total period of 10 years excluding periods of study outside the State; or either of whose parents have resided in the State for a total period of 10 years excluding periods of employment outside the
Employer Certificate: Candidates who are children of parents who are in the employment of this State or Central Government, Public Sector Corporations, Local bodies, Universities and other similar Quasi Public Institutions within the State at the time of applying for TS Ed.CET- 2020
Integrated community certificate (Caste Certificate) issued by the competent authority in case of BC/SC/ST candidates, if applicable
Candidates claiming Muslim and Christian Minority should upload the "TC" of the SSC containing Minority status (or) in the absence of TC, a Certificate issued by the Head of the Institution in which the student studied/appeared for SSC or its equivalent examination.
Special category certificates NCC / CAP / PH / SPORTS
Latest Parental Income Certificate issued by R.O., Telangana Govt. after 01.01.2020.
TS EDCET 2020 Detailed Notification – Available Now